Information on surrounding areas
Edo Taito Dento Kogei-kan
(Edo Taito Traditional Craft Museum. Located along Asakusa Hisago Shopping Street)
Edo Shitamachi Dento Kogei-kan, which is closed due to remodeling, will be reopened at 1pm on Thursday, March 28, 2019 as Edo Taito Dento Kogei-kan (Edo Taito Traditional Craft Museum) with updated facilities and improved exhibits to spread the attractiveness of traditional craft in an understandable way.
Opening hours

10am-6pm (For March 28, 2019, 1pm-6pm)

Closed days

2nd and 4th Tuesdays
Or the next day if public holiday (Opening days/hours may vary according to circumstances)

Address

2-22-13 Asakusa, Taito-ku

Phone

TEL.03-3842-1990

Website
Asakusa has many artisans with traditional techniques that were developed in the history and climate of this traditional area and handed down through generations. Traditional crafts made using their sophisticated techniques and well-chosen materials are warm and tasteful unlike mass-produced products and they enrich our life.
This museum widely introduces such traditional crafts and also holds handcraft classes and demonstration events by artisans to familiarize traditional crafts to more people. The museum holds regular exhibitions on over 350 works of approx. 45 industry types such as Edo sudare (bamboo blinds), Tokyo kiri tansu (paulownia-wood chests of drawers), and Edo sashimono (cabinetwork). In addition, the museum holds exhibition events such as exhibitions of Edo bekko (tortoiseshell work) and Edo tegaki chochin (hand-painted paper lanterns). On Saturday and Sunday of each week, a handcraft demonstration event by an artisan is held. In the handcraft class, the artisan will directly teach you how to make. So, please visit and join us.
Asakusa Hanayashiki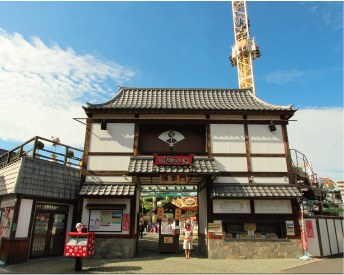 Asakusa Hanayashiki is Japan's oldest amusement park created based on a botanical garden Hanayashiki opened in 1853. At first, the botanical garden was open only to upper-class people, but later animals, show tents, and play equipment were gradually added to the garden, which made the garden widely popular.
After the closure during the war, it was reopened as an amusement park Asakusa Hanayashiki in 1947. Since then, Hanayashiki's new attractions, such as Japan's oldest roller coaster, have been much talked about.
In April 2019, a multipurpose hall Asakusa Kagekijo will be opened in the park to transmit more entertainment information.
Oku-asakusa area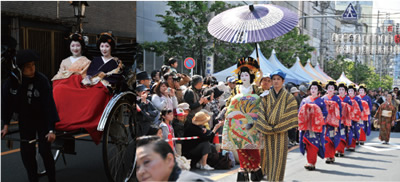 The north end of Asakusa Hisago Shopping Street is connected with Kototoi St. The north side of Kototoi St. is an area called Oku-asakusa. This area has Asakusa Kenban, an office dispatching geishas. As you can see from that, this area has been known as a geisha quarter since the Edo Period. Seemingly, this area is a quiet residential area, but once twilight descends, you will see stylish town lights. They are lights of traditional Japanese restaurants and places for gourmet locals.
This gourmet area recently has new types of restaurants, which attracts women and young people. Besides, the area is popular among rickshaw riders and a growing number of people enjoy strolling in the area.
Asakusa Kenban
An office to dispatch geishas and jesters to banquets. This is also a place where geishas practice performance. Asakusa Kenban also conducts activities for the preservation of traditional culture such as Asakusa Odori (dance performance by geishas). Also it holds events for visitors to get familiar with banquets and geisha performance.