Events
The shopping street holds two events a year: Summer Festa in early summer and Appreciation Festa at the end of each year.
Hisagoro excitedly joins in these events too!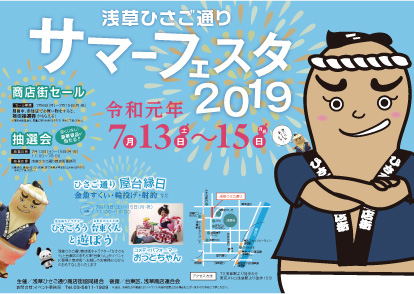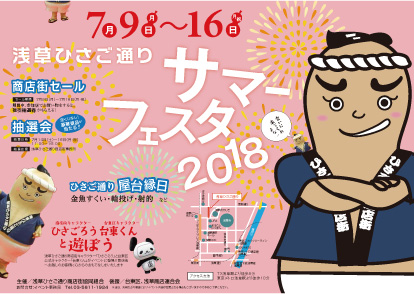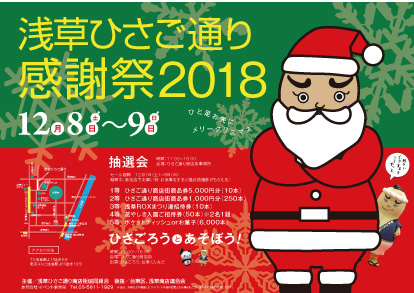 Sanja Matsuri
Sanja Matsuri is the regularly held festival of Asakusa Shrine. The formal name of the festival is Asakusa Jinja Reitaisai (Asakusa Shrine's regularly held festival). This festival is held on Friday, Saturday, and Sunday of the third week of May. People excitedly carrying a portable shrine under the blue sky of early summer are well known as a scene representing festivals in Tokyo's traditional areas.
During the festival, various dedicatory performances and ceremonies such as Binzasara Mai and Sagi Mai (traditional dance performances) designated as national intangible cultural assets are held. Among them, carrying of a portable shrine is fun to see after all is said and done.
There are three large portable shrines of Asakusa Shrine and about 100 portable shrines of 44 parishioner districts of Asakusa and each portable shrine is carried through streets of Asakusa. On that day, the whole Asakusa is enveloped in the festival mood.
As the highlight ritual of the festival, the large portable shrines go round each district and return to the main shrine on the last day. The three portable shrines carry three gods: Hajinomatsuchinomikoto (1st shrine), Hinokumanohamanarinomikoto (2nd shrine), and Hinokumanotakenarinomikoto (3rd shrine), respectively. These three gods are related to the origin of Asakusa Shrine and the word "Sanja" (three shrines) came from that.
Tori no Ichi
 Tori no Ichi (rake fair) is an annual event held on "days of the cock" of November every year. On that day, stalls selling lucky charms such as okame (homely woman) amulets and rake-shaped amulets attract many visitors.
Tori no Ichi is held in various locations mainly in the Kanto region. The most famous ones are held at Otori Shrine and Chokokuji Temple, a cock temple, in Asakusa. Every year, no less than 700-800 thousand people show up at the festival.
Many rake shops and stalls open at these festival sites and merchants ebulliently clap their hands when rakes are sold. It's so exciting to see such a sight. This is exactly one of the year-end features in the traditional area of Tokyo.
This popularity has been since the Edo Period. The new Yoshiwara red-light district, which was located here in Asakusa, used to be opened to the outside on the festival day only. Courtesans were able to go outside the red-light district on that day only, so they really looked forward to the festival.
A day of the cock comes twice or three times in November depending on the year. The first day of the cock is called Ichi no Tori. The next is Ni no Tori. And the third one is San no Tori. It is said that fires are frequent in a year having the third day of the cock.
Chokokuji Temple http://torinoichi.jp/index.htm
Otori Shrine http://www.otorisama.or.jp/